| | |
| --- | --- |
| | Terms of Use, Disclaimer and Guarantee Notices: |
TERM OF USE:
This website is offered to you, the customer, conditioned on your acceptance without modification of the terms, conditions, and notices contained herein. Your use of this website constitutes your agreement to all such terms, conditions, and notices.

Copyright and Trademark Notices

All contents of this Web site are: Copyright © 1994 - 2004 1st Choice Internet. 126 N. Main St Ste B8, Hailey, Idaho 83333 | 1-800-343-2891 or (208) 578-0921 U.S.A. All rights reserved.

Personal and Noncommercial Use Limitation

This website is for your personal and noncommercial use. You may not modify, copy, distribute, transmit, display, perform, reproduce, publish, license, create derivative works from, transfer, send unsolicited commercial e-mail, or sell any information, software, products, or services obtained from this website.

No Unlawful or Prohibited Use

As a condition of your use of this website, you warrant that you will not use this website for any purpose that is unlawful or prohibited by these terms, conditions, and notices.

Links To Third-Party Sites

This website may contain hyperlinks to websites operated by parties other than 1st Choice. Such hyperlinks are provided for your reference only. 1st Choice does not control such websites and is not responsible for their content. 1st Choice's inclusion of hyperlinks to such websites does not imply any endorsement of the material on such websites or any association with their operators.

Modification of These Terms and Conditions

1st Choice reserves the right to change the terms, conditions, and notices under which this website is offered.

General

This agreement is governed by the laws of the State of Idaho, USA. You hereby consent to the exclusive jurisdiction and venue of courts in Blaine County, Idaho, USA, in all disputes arising out of or relating to the use of this website. Use of this website is unauthorized in any jurisdiction that does not give effect to all provisions of these terms and conditions, including, without limitation, this paragraph.

You agree that no joint venture, partnership, employment, or agency relationship exists between you and 1st Choice as a result of this agreement or use of this website.

1st Choice's performance of this agreement is subject to existing laws and legal process, and nothing contained in this agreement is in derogation of 1st Choice's right to comply with law enforcement requests or requirements relating to your use of this website or information provided to or gathered by 1st Choice with respect to such use.

If any part of this agreement is determined to be invalid or unenforceable pursuant to applicable law including, but not limited to, the warranty disclaimers and liability limitations set forth on this site, then the invalid or unenforceable provision will be deemed superseded by a valid, enforceable provision that most closely matches the intent of the original provision and the remainder of the agreement shall continue in effect.

This agreement constitutes the entire agreement between the customer and 1st Choice with respect to this website and it supersedes all prior or contemporaneous communications and proposals, whether electronic, oral, or written, between the customer and 1st Choice with respect to this website. A printed version of this agreement and of any notice given in electronic form shall be admissible in judicial or administrative proceedings based upon or relating to this agreement to the same extent and subject to the same conditions as other business documents and records originally generated and maintained in printed form.

Fictitious names of companies, products, people, characters, and/or data mentioned herein are not intended to represent any real individual, company, product, or event.

Any rights not expressly granted herein are reserved.

Support

Contact us at support@choice1.com for help with questions or problems with this website.
DISCLAIMER:
1st Choice Vacation Rentals ("1st Choice") assumes no responsibility and in no way warrants or guarantees the accuracy of information contained in the ads herein. It is the sole responsibility of all parties engaging in business as a result of visiting or advertising on this site to perform any necessary due diligence to ensure that all representations made by either party are true and factual to said parties' satisfaction. 1st Choice is not responsible for any events that transpire through use of our services.

Information contained in advertisements is neither confirmed nor warranted by 1st Choice. We do not guarantee in any manner the service or quality of service offered by advertisers. Confirmation of information printed herein is the responsibility of the renting party. Qualification of all renters is solely the responsibility of the advertiser.

1st Choice reserves the right to edit, decline, or remove any advertisement at its own discretion. If an ad is removed by 1st Choice, the advertiser may be entitled to a refund for the unused portion of the ad only. Furthermore, 1st Choice reserves the right to control the content of the site, including content options for any advertisement and may add or remove any categories in any section of the site.

In the event of power outages, acts of God, or other events that result in a temporary break in service, the sole liability of 1st Choice to any advertiser is limited to, at 1st Choice's discretion, a pro rata refund of the advertising fee representing the unused amount of the ad or the amount of time the web site was down. Under no circumstances will 1st Choice be liable for any special, indirect, incidental or consequential damages, including, without limitation, lost income or profits, in any way arising out of or related to the services provided, even if 1st Choice has been advised as to the possibility of such damages.

1st Choice is not a rental agency. Please contact the advertiser directly using the contact information given for specific vacation rental to check availability and book rentals. 1st Choice cannot provide any information in addition to that included on an advertiser's page concerning listed vacation rentals.

By using or continuing to use the services of 1st Choice, you agree to the terms and conditions of this disclaimer.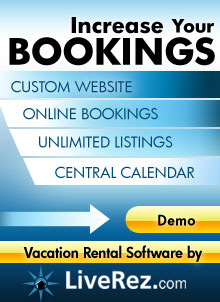 Join our 1st Choice Vacation Rentals Newsletter and get information on what's new with 1st Choice.
Sign-Up Now!