| | |
| --- | --- |
| | 1st Choice Internet Web Development |
From owners of a single vacation rental, to large vacation rental management companies, and everything in between, 1st Choice has easy solutions for everyone. If you don't already have a website, or your current site doesn't offer the look you want or tools to easily manage your data, now's your chance! See some of our examples and features below.

Please call 1st Choice Sales Department 800-343-2891 ext. 102, or email sales@choice1.com to discuss your web developement needs!

Platinum Website Templated Solution
With a standardized vacation rental templated design, we can convert your one-page vacation rental listing or listings into a cost effective yet fully functional stand alone website with its own unique domain name. You'll be able to control all aspects of your properties and make changes with our administration/editing tools, but best of all, your changes will be simultaneously updated on 1st Choice Vacation Rentals!

Features:

Ability to add an unlimited number of vacation rental listings

One vacation rental listing on 1st Choice (w/ hosting fee)

5 Additional dynamic pages including: Intro/Welcome, Property Specials, Testimonials, About us, and Contact Us

Tools to edit all text and add photos on website 24/7!

Toll-free support M-F 8am-5pm MST



Example sites:
Poipu Beach Paradise
Lake Tahoe Living
Cascade Property Rentals


Rates: $499.95 set up, $39.95/month hosting (plus $10/additional vacation rental to be listed on 1st Choice)*
* Rates are slightly higher for our premium areas of Orlando, FL and Lake Tahoe, CA.

Platinum Website with Customized Look (Platinum Plus)
In addition to the features in our standard Platinum Templated website, a customized graphics package can be created using your Corporate logo, property photos, and main features. We can also make textual changes to the navigation tools (based on the original design)

Platinum Plus Designs:

Rates: Please contact sales@choice1.com for custom site hosting rates and web development estimates.

Website with Customized Look and Tools - Not only do we strive to create a unique identity through your website, but we can custom tailor the types of tools you need and add additional features.
Choose from tools like: Customizable categorization, live availability searches, online booking, credit card processing, Secure SSL encryption, newsletter and mailing list management, online customer tracking, custom traffic reporting, and more! Some of our more recent projects include:

Whether you are a single property owner or a 400 property management company, please contact our Web Development Division for your custom Web Development and application needs. We would be happy to provide you with a free initial analysis and consultation on how our services can improve your efficiency and increase your bottom line!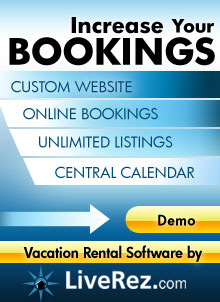 Join our 1st Choice Vacation Rentals Newsletter and get information on what's new with 1st Choice.
Sign-Up Now!