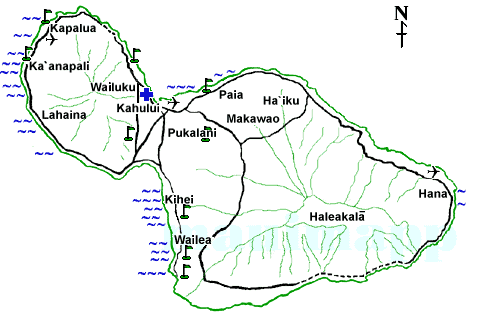 Maui
Perhaps the most famous of all the Hawaiian Islands, Maui is as much a state of mind as it is a destination. Ranked Condé Nast Traveler magazine's "Best Island in the World" for eight years running, Maui combines magnificent scenery with the sophistication of world-class resorts, superb restaurants and limitless shopping opportunities.

Among the must-do's: a breathtaking drive on the serpentine Hana Highway and watching the sun rise above the clouds at the 10,023-foot summit of Haleakala, the world's largest dormant volcano.

Maui is the ideal location for those in search of romance and family-friendly adventures.

CENTRAL:
The central Maui town of Kahului/Wailuku is the major business and government center and home to the majority of the island's population.

NORTH:
Traveling North and East you'll find the former sugar town named Paia where the trendy, hippie and old-fashioned co-exist. Also along the tropical North Shore is Hookipa Beach Park, a world-renowned windsurfing area. Further East and up the hill from the Hana Highway is Haiku. This former pineapple-plantation village offers an idyllic setting for those who want to experience a quieter side of Maui, but will enjoy being only a 10-minute drive away from the beach.

EAST:
The far East side of the island is home to Hana, a tiny town between a rain forest and the Pacific Ocean where you can really get away from it all. No shopping malls or chain fast food joints here. Pristine beaches and small-town old Hawaii calm will be found here.

SOUTH:
South Maui is the hottest, sunniest and driest coastline on the island. Here you'll find the resort district of Wailea and Makena with its Beverly Hills-style shopping, golf courses, tennis and, of course, multi-million dollar resort hotels. For the more budget-conscious traveler, Kihei offers affordability, eight sandy beaches and convenience.

WEST:
West Maui is home to the lush wilderness, valleys and jagged peaks photographed for many a postcard or vacation album. It's also one of the island's major resort areas. In Ka'anapali you'll find sprawling beaches and Hawaii's first master-planned resort. Shopping, dining and a whale museum can also be part of your plans while in Ka'anapali. You'll be in the center of it all - restaurants, shops, galleries, nightlife and even a dash of history - in the historic whaling town of Lahaina. Napili and Kahana offer great beaches, shops and restaurants. Nearby are the gold sand beaches, manicured golf fairways and sparkling pineapple fields of Kapalua. Two bays here are natural marine preserves and favorites for winter surfing.