| | |
| --- | --- |
| | 1st Choice Press |
3 Stars from B&B Guidebook Review
Tuesday, December 06, 2005

INNSTAR.COM
B&B Guidebook Review
Choice1.Com

Date last reviewed: 12/9/2005
Score: 54 3 Stars

Area Covered:
Listing Type/Number:
Estimate about 500 B&Bs, with at least 4 pictures (some have many more) and detailed info about inn. Has link and availability link.
Description:
From home page, select state. In state, select "category" (city/area); some have a further breakdown of lodging type. Inns displayed by priority of listing, some with small thumbnail. All have link to more detailed page.
Quality Assurance:
Allows guest "testimonials" at site.
Other:
Sites with link get availability link. Has news links & vacation tips.

--------------------------------------------------------------------------------

Innkeeper Info:
Promotion: Uses appropriate keywords, description on inn pages.
Rates: $129.95for 4 pics, description, no link; $199.95 for 8 pics, link. Sign up, edit, pay on-line.
Contact: (800)343-2891, email from site.
Comment: Has ad boxes on inn listing pages.
Web Presence Evaluation:

Google® page rank of home page: 6/10.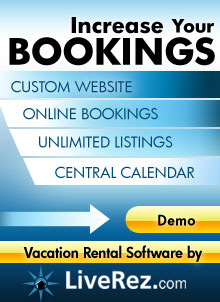 Join our 1st Choice Vacation Rentals Newsletter and get information on what's new with 1st Choice.
Sign-Up Now!