| | |
| --- | --- |
| | 1st Choice Press |
1ST CHOICE PROVES TO BE BEST ONLINE MARKETING RESOURCE FOR PROPERTY OWNERS WORLDWIDE
Tuesday, January 08, 2002

1st Choice Vacation Rentals has been online since 1994 and we have brought thousands of renters and property owners together over the years. 1st Choice was the first vacation property website that allowed owners to manage their own property listings with 1st Choice's Page Administration Program. With over 4 million vacation seekers coming to 1st Choice every year, that's up to 20,000 each day, property owners have found the site to be the most cost-effective marketing they do. Some of the features property owners have to take advantage of are:

24 Hour Editing of Vacation Property Pages -With user-friendly editing programs, even a property owner with no knowledge of Internet programming can easily add a property to 1st Choice and change the information on his or her page at any time of day or night.

Top in Search Engine Rankings - 1st Choice Vacation Rentals achieves top search engine rankings for searches relating to the destinations they represent. These top rankings, commonly one of the top three, are attained in all major search engines including Yahoo, Atlavista, AOL, Lycos, Netscape, Hot Bot, Excite, Webcrawler, and Info Space.

New Staff - 1st Choice has expanded its staff in order to personally help property owners with changes and\or questions. Support staff is available toll-free at (800) 343-2891 for any questions or concerns.

More Free Images - Owners now have up to 8 photos per vacation property page. Also available is a second page that can hold up to 10 more pictures for an additional fee.

Availability Calendars - Each Property has it's own distinct availability calendar and it can easily be managed by owners through their Page Administration Program.

Property Reviews - Guests are able rate and make comments about properties on 1st Choice. Owners can choose whether to include this feature on their page and can manage the reviews at any time. Testimonials of former guests on vacation property pages are great sales tools.

Banner Advertising - Owners may purchase site wide banner advertisements on 1st Choice Vacation Rentals. Banner ads rotate through the top of every category on 1st Choice. By buying a specified number of banner views, traffic to property pages can greatly increase, and ultimately the number of rentals made for these specially advertised properties. Contact our sales department at sales@choice1.com regarding this and other advertising opportunities.

Top 5 Placements - 1st Choice has increased the number of new subcategories within our larger markets such as Orlando and Lake Tahoe in order to let potential renters narrow down their searches. Monthly placements in the top 5 listings within our most popular categories are available to property owners. This prime placement of their listing will bring even more potential renters to their pages. Please contact sales@choice1.com for details.

Monthly Newsletters - 1st Choice will launch in early 2002 two monthly newsletters: 1st Choice Support Tips for property owners, and 1st Choice Travel News for all past and present inquiries through the site. The latter of the two newsletters is an opportunity for 1st Choice property owners to reach over 30,000 vacation seekers with news and specials. Contact sales@choice1.com for more information.

Property owners can go directly to create a 1st Choice page to take advantage of these and many more invaluable advertising opportunities.

Media: for more information contact Mary Fauth, mary@choice1.com or phone 800-343-2891 ext. 104.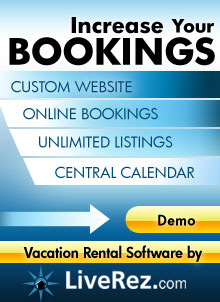 Join our 1st Choice Vacation Rentals Newsletter and get information on what's new with 1st Choice.
Sign-Up Now!