| | |
| --- | --- |
| | 1st Choice Press |
Since 1994 1st Choice Remains a Leader in the Vacation Rental Industry!
Wednesday, January 29, 2003

A pioneer and leader the online vacation rental industry since 1994, 1st Choice Vacation Rentals continues to lead the way in cost effective online advertising, marketing, and value added features for our customers.

Reinvestment in the Product!
Approximately 20-25% of the annual listing rates on 1st Choice are invested in competitively marketing the site. This reinvestment brings as many as 20,000 visitors a day to 1st Choice. A full marketing and public relations campaign is underway and it's our 1st Choice advertiser's dollars at work!

What sets us apart from our competitors:

Rated one of the Top Vacation Rental Directories by Google.com's PageRank formula!

#1 Vacation Rental Directory by Yahoo's "Most Popular Sites" - a listing for sites currently most popular with Yahoo search engine users.

Third party internet traffic source Alexa.com consistantly places 1st Choice in the top 3 vacation rental sites. Check our stats for yourself:





A financial commitment to pay per click search engines has guaranteed top three placements in all of the major search engines including Yahoo, Google, MSN, Lycos, AltaVista, Ask Jeeves, and many more.



Value Added Customer Features
1st Choice has spent hundreds of development hours and thousands of dollars on value added customer features including:


Two monthly newsletters with technical and marketing tips.

Travel Tips Newsletters sent to over 26,000 past 1st Choice inquiries featuring and linking to destinations on 1st Choice

New features like the widely used 'NotePad' and 'Refer to a Friend' programs - quickly increasing leads for our customers

Property 'Specials'

Easy to use 'Testimonials' and 'Availability Calendar'

And even more in the development process.

Full-service Web Development Team!
1st Choice is not just an advertising vehicle -- they are a complete web development team!! 1st Choice has developed tools that can turn a one-page listing on the site into it's own stand-alone website. For many 1st Choice customers, 1st Choice has taken self-manageable tools their customers are used to using and build completely dynamic vacation property websites.

In closing...
A vacation property owner has many options to choose from when advertising on the Internet. It's to their benefit to be taking advantage of as many as they possibly can, utilizing the full power of the internet. 1st Choice Vacation Rentals is doing many things to set them apart from those other sites and that will remain at the top the list to choose from because of this.

The Internet is a big place and there will always be other sites. Staying ahead of the competition through value added features will allow 1st Choice to maintain their position as a leader in this industry.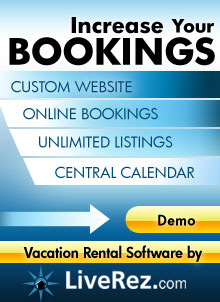 Join our 1st Choice Vacation Rentals Newsletter and get information on what's new with 1st Choice.
Sign-Up Now!